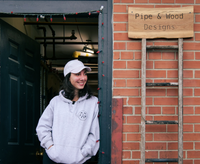 Contact Us
Please feel free to contact us using the form below or
Phone: (647) 864-2871 Email: pipeandwooddesigns@gmail.com
Our workshop is located at 227 Sterling Rd #106a, Toronto, ON M6R 2B2.  If you would like to save on delivery costs for those larger items, please feel free to pick up your piece direct and see our studio!
If you are inquiring about a custom piece, please include as many details as possible including all dimensions of your available space, your budget and your phone number.  We look forward to working with you!
Please fill in your details below.